Executive Director – Nicole Schwartz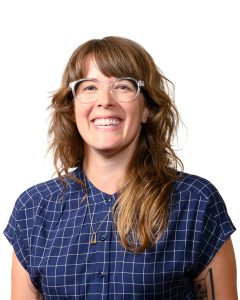 Nicole Schwartz comes to TradesFutures with ample experience in education and workforce development. Most recently, Schwartz served as NABTU's Apprenticeship Readiness Program Coordinator, overseeing nearly 200 ARP programs across the U.S. in conjunction with state and local Building and Construction Trades Councils and their partner community organizations.
Prior to her time at TradesFutures, Schwartz spent nearly a decade educating youth as a High School and Middle School Social Studies and Spanish Teacher in Milwaukee Public Schools in Milwaukee, Wisconsin. Outside of the classroom, Nicole worked on several initiatives, including Restorative Practices, Positive Behavior Interventions and Supports, and Potter's Forest – Ropes and Challenge Course. After moving to DC in 2015, Nicole worked as a Pastry Cook and Urban Farmer before deciding to focus her efforts on workforce development and broadening pathways to family-sustaining careers for all.
Nicole graduated with a BA from Marquette University in Milwaukee, WI in International Affairs and Spanish for the Professions in 2004. In 2007, Nicole received her Master's in Education from the University of Wisconsin – La Crosse.
Board of Directors
Sean McGarvey –
President
North America's Building Trades Unions
---
Michael Monroe –
Chief of Staff
North America's Building Trades Unions
---
Allison Ziogas –
Head of US Labor Relations
Ørsted
---
Jeff Peoples –
Chairman, President and Chief Executive Officer
Alabama Power Company
Brandon Bishop –
Secretary Treasurer
North America's Building Trades Unions
---
Melissa Wells –
Special Assistant to the President – North America's Building Trades Unions
Maryland State Delegate – 40th Legislative District
---
Thomas W. Ensminger, PMP –
Vice President, Union Labor Relations & Fossil / Industrial Projects
Day & Zimmermann NPS
---
Sam Lyon –
North American Labor Relations Manager
Bechtel